Middle school improving under Lopez
Days Creek defeats Yoncalla, 19-14, giving new coach his first win
The Days Creek middle school football team won a thriller last week, defeating Yoncalla 19-14 at Community Memorial Field.
It marked the end of a long losing streak for the Wolves, and the first win for new head coach Jonathan Lopez.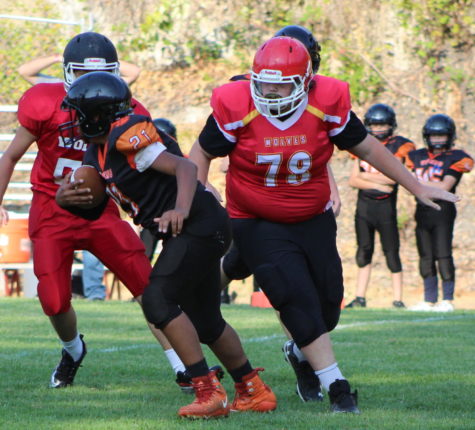 "It feels good to help the boys," Lopez said. "I feel like they accomplished something. It's pretty darn good being a coach and having a positive influence on the kids, and i love football."
Lopez spent last fall assisting Travis Fuller with the high school team. He takes over as middle school coach from Tim Norman.
On Sept. 20, running back Zaine Bennett scored two touchdowns and Legion Stone added another as the Wolves won a thriller.
Days Creek had success behind a veteran offensive line, anchored by 8th graders Bryan Malone and Chyson Hayes. Both were on the team that went winless last fall.
"Oh my gosh, it feels amazing," Malone said of the win. "I'm happy because we actually won a game." 
7th grader Paydyn Borg also starts on the line. The starting quarterback is Taryn Jandura.
Lopez is the school's Vo-Ag teacher and FFA advisor. Between coaching and teaching duties, he seldom has a free moment in his day. He still brings energy to middle school practices each day.
"I think Lopez is a great coach because of how strict he is," Stone said. "He really teaches us and that's why we won."
Days Creek is playing 6-man football, matching the switch the high school program made from 8-man football this season. Lopez hopes to prepare his players for the high school ranks as best as possible.
"They're a rowdy bunch but rowdy can be directed positively," Lopez said. "They're hooligans but they are my hooligans."