The Invisible effects of Covid-19
The stresses caused by Covid linger in the days creek school system even as the mandates and cases subside.
Covid-19 rates are going down, but the stress the pamdemic has caused is not subsiding. Especially not in teens.
In fact, according to high schoolers at Days Creek Charter School, it may be worse now than distance learning. 
Causes are varying, but the evidence is conclusive. Teens are stressed out.
In a survey of Days Creek Charter School 7-12 graders, 69 percent rated their stress level on a scale of 1-10 above 6. Eleven out of 74 respondents said they were at their maximum stress level.
When asked to rate their stress level before the Covid-19 pandemic, most students (78 percent) chose 5 or less on the same scale.
As the pandemic lingers into its third school year, the disruption it has caused is apparent in Days Creek teens.
"Knowing you can get sick just from doing your everything day tasks has been stressful," junior Raime Wheeler said. "Whether it's going shopping or even seeing family members."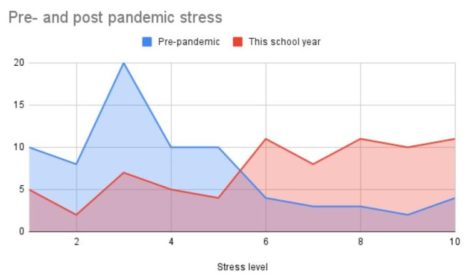 The pandemic sent Days Creek students home for the final two months of the 2019-20 school year, and the 2020-21 school year also had several weeks of distance learning where students weren't allowed on campus. This was stressful for many students. 
"I was extremely frustrated and thought it was pointless," said senior Logan Thompson, then a student at North Valley High School. "Staring at a screen listening to someone drag on for hours isn't healthy."
The average amount of screen time reported by survey respondents, including time on a smartphone, on a Chromebook at school or watching TV was 5.56 hours.
Technical issues added to the frustration.
"I would get all stressed out because of assignments I had to do and sometimes I wouldn't know how to do them," junior Keira Sawyer said. "I kept having issues with getting my assignments turned in because my gmail wouldn't work or they would get lost or I don't even know just somehow my teachers wouldn't be able to get them." 
The lack of resources and active assistance on assignments had  a great impact on students grades and mental health. Students that regularly did very well in school were overwhelmed.
Being stuck at home all the time, many students turned to their phones for entertainment, like social media, which many students said led to depression.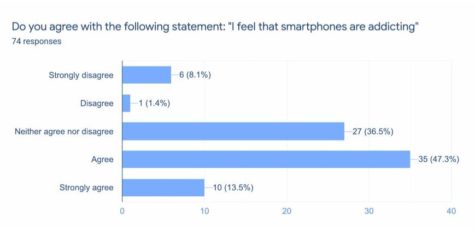 Among students surveyed, 47 percent agreed that smartphones were addictive and 13 percent strongly agreed. Only 9.5 percent disagreed with the statement.
"A lot of people are so attached to their phones that they forget how to act in their social life, it might cause stress because of trying to get sleep and trying to also keep up with messaging," sophomore Riley Crume said.
The pandemic hit the current batch of teens at a key developmental phase. Social distancing kept teens apart perhaps when they needed contact with each other the most. Smart phones helped keep them connected digitally, but caused other problems. Especially when that contact isn't friendly.
"I feel like when people get bullied online it messes with their motivation to even leave the house," junior Timber Summerfield said.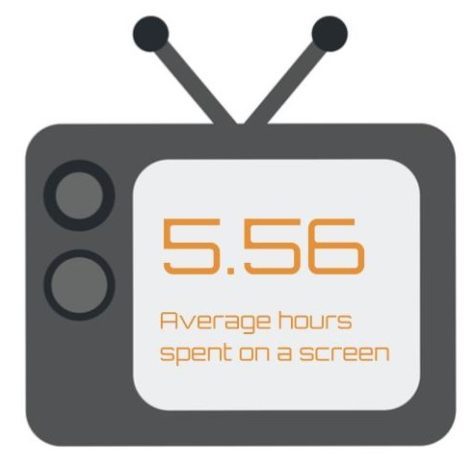 Sophomore Gracie Stone says, " I feel like a lot of anxiety comes from comparing yourself to others and constantly trying to live up to trending standards. Or constantly finding bad things about yourself and dwelling on them." 
Maintaining grades was difficult for most of the students interviewed, because they couldn't connect with their teacher to get help on their assignments. When students returned to Days Creek for in-person learning, that anxiety remained.
"I feel that a lot of stress is caused by teachers nagging about turning stuff in instead of actually seeing if something is wrong," sophomore Lyris Berlingeri said. "I understand students don't like talking about their feelings, but the least the teacher can do is reassure the student."
The athletes of Days Creek missed out on many sport opportunities because of Covid-19. And when they could participate, they had a hard time keeping their grades up so they could continue to play. 
Junior Bailey Stufflebeam said: ¨I think that school work and sports are a big one because students are worried about their grades so that they can play sports, also sickness. Kids are getting sick, missing school, then coming back to piles of homework." 
Ms. Knapp is the Student Success Coordinator at Days Creek. She said students can come to her or teachers they trust if they are at 10/10 level stress. 
"They could always come into my room and take some times to decompress," Knapp said. "If the students wants to talk, I'm there to talk. If they don't want to talk, I'm not going to make them."
Most students recognized that reducing time on screens was one step toward a healthier mental state. Others talked about being more active, getting more sleep and improving their diet. But accomplishing those goals is easier said than done.
"Teens should do something that will motivate them in the morning because it helps during the day," Stufflebeam said. 
A more realistic way to remain connected to the world, and the smartphones that are an increasing necessity in it, is to listen to music while going through everyday tasks.
"Listening to music is one of the only things that helped me," Berlingeri said.
One advantage students in the Days Creek, Milo and Tiller areas have over their urban counterparts is access to pastoral settings like the woods, South Umpqua River and mountains. 
"I can't speak for all but I find a lot of peace outside in the woods," Thompson said. "Hiking is a healthy hobby that makes me very calm, and happy."
Breanna Milliron, Timber Summerfield, Shayleen Budel, Logan Thompson, Marshall Haswell, Bailey Stufflebeam, Raime Wheeler, Keira Sawyer, Riley Crume, Kayshia Richey and Mya Malone all contributed to this story.