New gym, cafeteria a dream or reality?
Days Creek needs a new cafeteria. A second gym is high on its wish list.
But is it worth a tax increase? Days Creek, Milo and Tiller voters will decide this May.
Blueprints have been drawn for a  nearly 15,000-square foot building that would take care of the biggest needs on campus. With approval from voters, a new gym and cafeteria would be built south of the current gym next to the shop. Plans tentatively name the new facility the Days Creek Community Center.
The price tag? $8 million. But property owners in Douglas County School District No. 15 would only have to pay for $4 million as the school has qualified for a matching grant.
"The community will have an option of supporting the community with a multipurpose community center that will be used for generations," said superintendent Steve Woods.
The current cafeteria has a very low ceiling. It's old, dusty, and small. Some students have to eat in the gym because there isn't enough room for all of them. It's literally in the basement. 
The lunch lady Sarah Luster says she wants to make certain recipes that require more equipment. The kitchens has one stove, one fridge, and limited counter space with room for little else. She thinks it's hard to prepare meals while constantly bumping into the other ladies.
"I am extremely excited and hopeful that we will be able to get a brand new cafeteria/auditorium/community activity center," Luster said. "While I have very fond memories of the current cafeteria, it's definitely in need of many upgrades."
At certain times during the school year, three Days Creek basketball programs (high school boys and girls and one middle school team) have had to share the same court. This necessitates early morning practices before school and late night practices.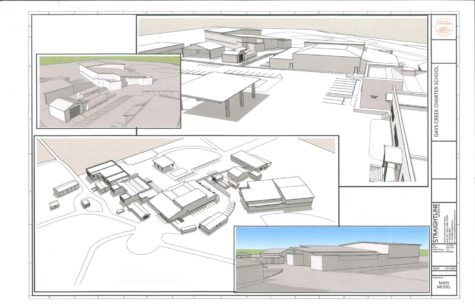 Longtime science teacher Scott Hampton coached both the high school girls and middle school girls in his 38-year tenure.
"Middle school always practices first and that was rough because you're talking getting there at 6," said Hampton, now retired. "Kids are then struggling in first period because they got up so early."
Some unlucky families with athletes spread across two or three programs find themselves at the school before sunrise and there until the last practice.  
"I feel like the gym would be a good opportunity for middle school and high school practices so that we don't have to wake up really early," said freshman Shayleigh Mumford. 
Athletic director James Ellis highlighted the constant use his beloved gym takes.
"All of the other schools we compete against have an elementary school as well as a high school, so the teams are spread out," he said. "Those gyms floors are crisp and squeaky because they get so much less use. Because of PE classes and activities, our gym is in use virtually all day." 
Days Creek Schematic Layout 11-5
The building has dimensions of 153 feet by 96 feet, complete with a basketball court, stage/music room, referee changing rooms, locker rooms for girls and boys, full kitchen, public toilets, eating area, covered entry, storage, and an office. 
The eating area has 180 seats. The gymnasium includes retractable bleachers and is fit for competition, although the current gym will be the preferred place for competition.
The school district had two schools up until 2018, when the shuttered Tiller Elementary was sold to a developer for around $350,000. 
"We still have the money and it will be going toward the new gym," Woods said. "We have about half a million dollars in the improvement fund."
If Measure 10-188 fails, the $500,000 would still go to facilities improvements. 
Being a public charter school, half of Days Creek students live in district while the other half does not. If the school were to receive this bond, taxes would increase only for in-district taxpayers. 
The school district estimates that there are 974 voters in the school district. The fate of Measure 10-188 rests with those households, some of whom have no connection to the school.
Property taxes are assessed per $1,000 of assessed value. This measure is asking for $1.80 per $1,000. Meaning for a property assessed being worth $100,000, the school district would receive $180 per year.
"The average value of a house in Days Creek is $300,000," Woods said. "Multiplied by 1.8% increase per $1,000 needed for the project. Taxes would be around an average of $500 a year in taxes."
That increase might be too much for some voters, but not Luster.
"It's fine. Things don't come free; We need it." said Luster, a longtime Milo resident. 
Math tutor Brian Jenks is a conservative voter, but said he still supports the measure. 
"Some people will just vote no on any tax, but 1.8 is not very big per year," Jenks said. "I would think that if people had that info they wouldn't be strongly opposed. I would like to see more info put out so they aren't left guessing how much their taxes increase."